Thoughts on Burning Man after eight years of experience:
This year many things worked well but there seemed to be less of what the festival used to mean on a number of levels. There is talk of the event being at a crisis point, with a seemingly high ratio of those who are primarily 'doers' as opposed to 'complainers' taking part in such discussions. A lot of effort is going into trying to bring about what was missed by some. In this fashion Burning Man can still be said to be a vital and enduring entity, because of a lot of motivated people bring to it their individual ideas and ideals which somehow add up to something instead of canceling each other out.
I am just beginning to be a veteran of days gone by to the current generation of Burning Man attendees, with memories approaching the discontinuity with the present that I have with those who tell of days when less than a thousand people would show up and when shots and explosions echoed through the darkness. The population grew to over 35,500 people this year, and for the first time I perceived that the heyday of really large art cars and numerous prominent beautiful projects was receding into the past. It is true that one person cannot hope to see all of the event even in a week, but the forest is perhaps being obstructed by the trees in a sense due to the sheer size of it all. My rationale of whatever adversarial trends people generally sense are due for almost mathematical reasons to the need for shaping aspects of behavior to accommodate growing numbers of people. It is the reason civilizations are different than hunter gatherer societies, and why the denser the population in general the less freedoms can be allowed individuals on a world wide scale. I think a lot of people somehow felt a similar way, although once again many thousands seeing Black Rock City for the first time probably felt the same way as I did that wonderful first year of 1997.
The kinds of pining over the past one might expect from old people in the general world are of events less than a decade old on the Playa. The attempts by many dedicated people to 'roll with the punches' and evolve the event towards better survival strategies the following year is an interesting study in the engineering of a mini society which obviously meets the needs of a growing number of people for such an experience. The Burning Man festival is thus a kind of laboratory where a model civilization evolves to meet changing conditions. The changes and added regulation which creep into nearly each yearly incarnation is a dynamic response to lessons learned from the previous years being applied by the group of people behind the event to improve things. Some of the changes wrought upon Black Rock City have nothing to do with the will of the Burning Man Organization, such as the fact that while walking in the apparent open emptiness one is subject to scrutiny by grim men with guns who target the event. BLM rangers from all over the western U.S. are gathered and taught to behave in a 'vice cop' mode for the event rather than a 'steward of the land' fashion one thinks would be more appropriate. This is probably the saddest deterioration of what the event once was over time, and indicative of the zeal of repression conservative politicians are eager to direct against adult individual freedom.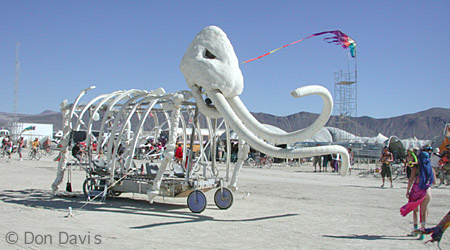 The growth of the size and attention of the festival has brought about the attention of various government agencies have thus drastically altered the experience. Over the years the lesson again comes, even in what was once called a 'Temporary Autonomous Zone' that one has to operate 'below the radar' of the authorities if one wants to live in ways they and their leaders don't like, and that the nail that stands out is the one that gets hammered down. Unfortunately, even out in the middle of the dark Playa one is under nearly as much surveillance by authorities as if one incarcerated in a federal institution.
Of all the cumulative negative influences, and the one the Burning Man organization is the most helpless to act against, the worse by far has been the feeding frenzy tactics of the Bureau of Land Management, apparently acting in open contempt of the Burning man organizationas well as the atendees. Using night vision equipment the BLM hunted people in the night like sportsmen hunting geese. The resulting 218 BLM citations were up 23 percent from last year, 114 for smoking pot, often the product of illegal searches. One account I consider plausible tells of a father and son among a group being stopped and heavy handedly being searched. When the father asked his son if he had consented to the search of his back pack he was immediately separated from the others and subjected to repeated thorough searches. After a while when another person asked if he was free to leave, an officer became combative, stating 'You won't be the first asshole I've tackled today", obviously taking pleasure in his gun backed role playing.
This year The BLM reportedly even resorted to operating a small fake art car reportedly bearing a large Cannabis leaf, driven by a man in garish drag and a woman accomplice, picking up people and entrapping them. One after another person was 'worked' into revealing what they could share or trade and then arrested. Someone thus rounded up had rolling papers treated like drug paraphernalia and was cited! These BLM thugs and whoever has directed their behavior, that of acting as a sinister armed force to people going out of their way to be isolated from society, soil the uniform of the Department of the Interior which I once proudly worked for. It is shameful to see such people harassing participants at an event for which they already extort enormous sums of money from the Burning Man organization. The BLM charging 4 dollars per person per day has resulted in the organization banning early arrivals, and brought about searches of vehicles due to pressure to assure detailed head count compliance, among other things.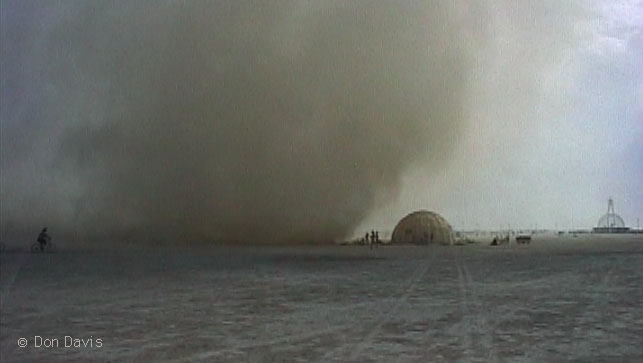 A truer index of response to actual needs of the event seems to be shown by the professional conduct of the police, who tended not to ferret out minor private transgressions but prominently and swiftly dealt with specialty jobs like the violent maniac Wednesday night. The Pershing County sheriff deputies issued only 2 drug related citations, down from 9 last year. Another level of crack down was felt by camps giving or bartering away alcohol, with 6 being visited by deputies and failing their state law compliance examinations, but at least only warnings were issued, in a show of commendable professional restraint. I heard of other camps with food given away getting surprise health inspections as well. There were about 60 police there this year, up from about 50 the previous year.
The Law Enforcement surveillance as well as random access issues are now a design factor in recent camp planning, with enclosed private setups. I would suggest that artists create wide works acting as partitions in large geometric patterns with the side effect of inhibiting long lines of sight which promote spying on people from a distance. The clamping down on art car licensing criteria was the most noticeable new rule this year, which had the desired outcome of no serious accidents this year and seemingly less art cars, particularly large ones. The sole really large scale vehicle was superficially designed like the whale car of 2 years ago, this one patterned like a snake or maggot. There were many 'medium size' vehicles, but I will always remember those that gathered together the night of the Burn, particularly the scaled up day glo buggy. Once they were contentrated in one limited region the true variety came out.
Happily, nobody got killed at the festival this year. Due to ravages of the elements, overdoses, burns and traumatic injuries, 1,569 people were treated at the Regional Emergency Medical Services Authority. Strikingly, this figure is down 22 percent from last year and suggests a population with improving safety awareness. I noticed in general that when asked, people in a position to know of things taking place at the event such as medical people and Rangers, were less forthcoming on providing such information now then in earlier years. This tends to promote the questionable role of anecdotal evidence in attempting to obtain any kind of overview and thus discern trends, and waiting for some figures of interest contributed to the time it took to prepare this account. I see the next few years as likely interesting times, part of why I keep going is to see what the event is turning into, and I hope next year I can better manifest some of my possible contributions.
Don Davis
December 2004